CRK Now stocking the NEW generation of Prime-I products from Uniview
New cameras are now on our website highlighted with a NEW sticker on our main page
https://www.crkennedy.co.nz/surveillance
The NEW SB series (Prime 1) and the SS series (PRIME 2)
Uniview, the pioneer and leader of IP video surveillance, has launched its new generation of Prime-I series products. As is known to all, conventional intrusion prevention products always have limitations such as lack of visualization, high installation cost, high false alarm rate, etc. With adding the intelligent function of Smart Intrusion Prevention (SIP), Prime-I series products can greatly deal with the above challenges from conventional intrusion products and help customers save time, reduce labor costs and boost efficiency. Thus, the new generation of Prime-I series is the first choice for you to enjoy the most practical intelligent functions at an affordable price and to suit all your specific installation requirements in the SMB distributor market!
Brighter and detailed images
Prime-I products, including fixed lens and motorized lens as well as different housing-Bullet, Dome and Turret products in four resolution that are 2/4/5/8MP, which can meet all your needs in different scenes. The 5MP resolution products also adopt a 16:9 wide view aspect ratio aiming at better adaptation to the screen and user experience enhancement. What's more, equipped with big lens F1.2 in 2/4/5MP motorized lens products, allows more light to pass through the lens, so the quality of the image can also be improved. Moreover, powered by LightHunter technology (excluding 4k fixed lens products), Prime-I series products can work efficiently in low light scenarios.
| | |
| --- | --- |
| 4:3 aspect ratio | 16:9 aspect ratio |
Robust hardware designs
The entire series of Prime-I products are made of metal and all motorized lens products can support the protection level of IP67 and IK10. It is worthwhile to mention that our motorized lens turret can support IK10 and all motorized lens domes have a built-in mic, which makes Prime-I products more competitive compared to other providers. For the 4K active deterrence bullet, it can report emergencies by both flashing lights and sounds, which helps to prevent incidents and decrease the crime rates. In addition, this active deterrence camera also supports dual-way talk for real-time monitoring.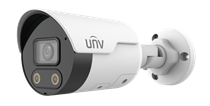 IPC2128SB-ADF28(40)KMC-I0
Smart intrusion prevention intelligent function
Featuring UNV upgraded intelligent algorithms, the Smart Intrusion Prevention (SIP) can achieve a lower than 1% detection error rate. Prime-I products can filter out leaves, lights, pets, wind and other non-targeted objects and alarms will only be triggered by interested targets such as humans, vehicles and non-motor vehicles. Related videos are sorted by category for easier search, with each classification frame representing a color to provide a clearer trigger type, search efficiency will be largely boosted.
With all the above product advantages, the upgraded Prime-I series can help customers in several application scenarios such as villa, factory, museum, bank, no-parking zone, etc. More importantly, provide users with cost-effective intelligent function products!